Forest Scientific, a manufacturer of digital fabrication tools for education, announced at Fab14 in Toulouse, France that their new entrepreneurship award for Fab Labs has been won by Elevator Works in Oakland, CA. The Forest Entrepreneurship Award was established to recognize innovation in entrepreneurship programs at Fab Labs that are part of the international Fab Lab Network created by Neil Gershenfeld, Director of the Center for Bits and Atoms at MIT.
Explains Forest Founder and CEO John Martincic, "We see fab labs and makerspaces as natural venues to foster innovations by entrepreneurs and inventors. The digital manufacturing tools like CNC machines, laser cutters and markers, 3D Printing and CAD design that are available in fab labs naturally enable the design and prototyping of new products. Most importantly, fab lab staff assists with the intricacies of design and fabrication, and in many labs programs help create an entrepreneurial mindset."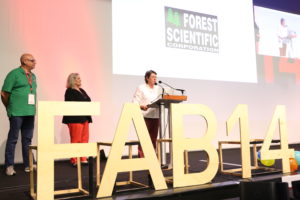 Cynthia Correia from Laney College Accepts Forest Entrepreneurship Award on Behalf of Oakland's Elevator Works at Fab 14 in France While Forest CEO John Martincic & Fab Foundation President Sherry Lassiter Look On
Mr. Martincic says that the award application from Elevator Works stood out above others since the Fab Lab emphasizes creating an entrepreneurial ecosystem in the community. "In addition", he states, "I was excited to see that the City of Oakland, CA where Elevator Works is located has signed on to become a Fab City. This commitment to sustainability through fab lab practices is the future of America."
Elevator Works is located in the West Oakland area and is creating a distributed manufacturing model where anyone with an idea can start a business. Entrepreneurs-In-Residence include a software startup, a 3D Printing service bureau, a clothing and jewelry designer, an open source robotics platform and a marketing agency.
Reacting to the Forest Award announcement, Elevator Works Co-founder and CEO Sal Bednarz says, "Elevator Works finds the smartest, hardest working, most creative people, with a range of skills. We help them help each other. This gives all our members a better shot at success. This award adds an important capability in our rapid prototyping shop, and we'll put the Forest CNC machine to work immediately!"
Elevator Works is one of over 1200 Fab Labs in the world connected through the international Fab Lab Network. Sarah Boisvert, Founder of the North American Digital Fabrication Alliance that organized the competition for the Fab Foundation, emphasized that there were a large number of innovative fab lab programs that applied for the Forest Award but added, "Elevator Works' commitment to entrepreneurship was pervasive in the Fab Lab's strategy and execution in an inner city setting."
For more information on Forest Scientific and products for education please visit their website.