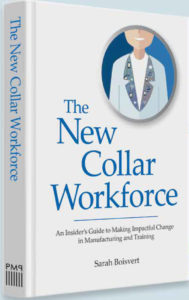 Published by Photonics Media Press, The New Collar Workforce, is turning the traditional workforce training model on it head. Armed with 200 manufacturing industry executive interviews, Sarah Boisvert gets to the heart of the skills gap, and defines a path to engaging, well-paying jobs in the cool digital factory. The surprising research results lead directly back to innovative programs being developed in Fab Labs and Makerspaces, as well as by organizations like America Makes and Tooling-U SME.
Bob Welsh, VP. Innovation Accelerator, Stanley Black & Decker – Global Tools & Storage reacted to the book: In "The New Collar Workforce", Sarah does a wonderful job of clarifying the relevance and importance of the global shift that is occurring in the workforce today, and waypoints to observe as industry 4.0 takes hold. We are experiencing an unprecedented increase in velocity and scope of change today, affecting entire ecosystems of manufacturing and production strategy. Radical thinking is needed, now more than ever, to bridge the skills gap that still exists at most manufacturing sites. The evolution of traditional blue-collar jobs into new digitally minded jobs that work symbiotically with robots and intelligent technology will be the key to exponential growth. "The New Collar Workforce" captures the challenges in a clear and evident way to help you understand and prepare your team for this exciting new era.
David DeWitt, Editor of ManufacturingStories®, describes the book in a recent review: Boisvert does an outstanding job presenting a complex subject in a thoughtful and organized way. I came away feeling like I understood the issues, had some good ideas of what I personally could do and felt motivated to do them.
Open Works Baltimore's Chairman of the Board Neil Didriksen says: "A very thorough survey of major trends in manufacturing that require skills and knowledge explained and illustrated in the text which constitute the elements for a "new collar" workforce in advanced manufacturing. The book couples this useful information with insights into how a global network of "fab labs" and maker spaces are contributing to the development of this 21st century workforce in very DIY ways, supplemented with entrepreneurial endeavors."
Dr. Reinhart Poprawe, Director of the Fraunhofer Institute for Laser Technology ILT, reacted to the book this way: Sarah Boisvert's "The New Collar Workforce" is a spot-on actual view of the present situation of manufacturing in the U.S. The link from traditional manufacturing to "Industry 4.0," in combination with the unique systematic and technological (e.g. additive manufacturing) competence of institutions like FABLAB/ MIT, paves the road to the future. If you have anything to do with manufacturing in the U.S., you will benefit greatly from this sharp, condensed, actual and comprehensive analysis!
Guillermo Tilley, Special Events Director at Garcia Street Books in Santa Fe, NM, comments: In her book The New Collar Workforce:  An Insider's Guide to Making Impactful Change in Manufacturing and Training, author Sarah Boisvert has created a guidebook.  Clear and concise, with plenty of case studies and impactful stories, this guidebook provides the blueprint on how to identify, develop and implement new training strategies for the next generation of skilled workers.  Regardless of one's role in the future of work movement: policymaker, administration, education or industry, this book is a great resource. 
This isn't your grandparents', or even your parents', manufacturing! To learn about the opportunities that exist for young people and career changers today in manufacturing, Get your copy today!
To learn more about the research and our programs, WATCH THIS INTERACTIVE WEBINAR produced by Photonics Media Press.
Check out our jazzy trailer: