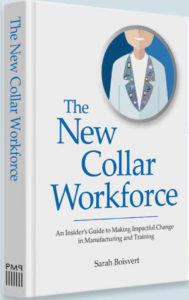 Published by Photonics Media, The New Collar Workforce, resulted from research on the skills 200 U.S. manufacturers are looking for in operators and technicians.  The surprising results lead back to innovative programs being developed in Fab Labs and Makerspaces, as well as by organizations like America Makes and SME.
Says Open Works Baltimore's Chairman of the Board Neil Didriksen: "A very thorough survey of major trends in manufacturing that require skills and knowledge explained and illustrated in the text which constitute the elements for a "new collar" workforce in advanced manufacturing. The book couples this useful information with insights into how a global network of "fab labs" and maker spaces are contributing to the development of this 21st century workforce in very DIY ways, supplemented with entrepreneurial endeavors."
Go to the Photonics Media Bookstore to get your copy today!