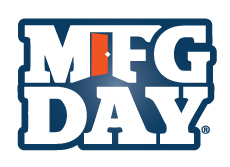 October is Manufacturing Month in New Mexico and Fab Lab Hub will celebrate at the Santa Fe Business Incubator. Events will feature New Collar Job Training information for smart manufacturing and tours of the Archimedes Fab Lab.
New Collar Job Training Workshop 
Smart manufacturing in the digital age brings with it a pressing need for workers skilled in New Collar Jobs. A 2-hour workshop will provide details on the skills today's workforce needs, information about innovative short term trainings such as Digital Badges, and a new paid internship program in the Fab Lab Hub job shop. The workshop takes place on October 3 from 5:30 to 7:30 p.m.
Fab Lab and Job Shop Open House
On Thursday October 5 from 11 a.m. to 6 p.m. the Archimedes Fab Lab and Fab Lab Hub job shop will be open for tours. Stop in and see the machines, learn about our New Collar Job training programs with paid internships for students and let our experts answer your questions.  
Although these are free events registration is required at
Learn about the skills advanced manufacturing needs and how you can access them in New Mexico. Program is designed for manufacturers, students, veterans, entrepreneurs and anyone looking to learn about the Future of Work in manufacturing.