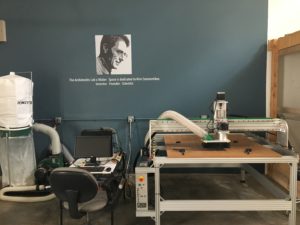 Fab Lab Hub has partnered with the Santa Fe Business Incubator [SFBI], to expand the Archimedes makerspace into a Fab Lab in the Fab Lab Network that was founded at the MIT Center for Bits and Atoms.  We will be providing job shop services for 3D Printing, CNC machining, laser cutting and marking, vinyl cutting and CAD design.  Students who take our Digital Badge courses will be eligible to apply for paid internships in the job shop.
Digital Badge
Introduction to 3D Printing
Digital Badges are certifications in specific areas that are verified online.
You can carry a Digital Badge with you anywhere to demonstrate you have completed skills mastery in specific topics for advanced manufacturing.
5 Modules or Mastery Badge
Take each badge separately  then combine into a Mastery Badge.
Introduction to 3D Printing Principles

Mastery Badge
Sign up here for all 5 Modules and earn a Mastery Badge
December 1 – 3, 2017 Santa Fe Business Incubator